Home » WordPress » 5 Must Have WordPress Plugins
---
5 Must Have WordPress Plugins for Every WordPress Website
If you have a WordPress website or Blog, In that case you must have these five Plugins in order to make your website secure from potential hackers, attract more traffic and more customers & to recover your website data in case of server crashes or accidental deletion of data. Moreover all these five Plugins are completely free for use. We will discuss each one of these plugins in details in this article. 
1. UpdraftPlus – Backup/Restore
Updraftplus is the Worlds most trusted plugin for WordPress data backup and restore. It allows you to back up your website and files so in case anything happens to your server or the website crashes due to any reason, you can store your data back just in a click of a button. 
Therefore it is recommended to perform the backup of your site at least every week or more frequently.
This plugin offers to store your backup data to the widest range of remote storage options like Google Drive, Dropbox, Rackspace cloud, One Drive, SFTP etc.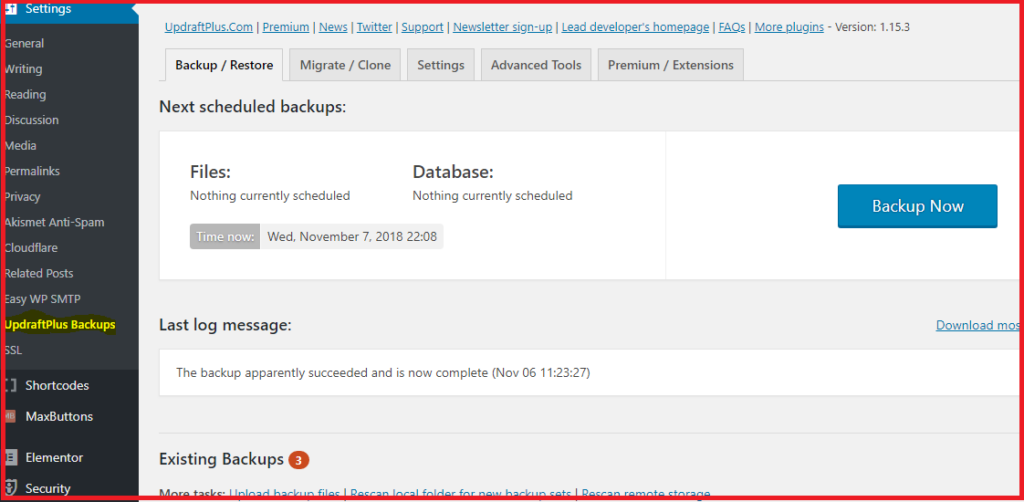 2. iThemes Security
The second plugin in the list is iTheme security. Security should be topmost priority of every website or blog. As per the WordPress data, on an average 30000 websites are hacked every day.
WordPress websites could be soft targets due to plugin vulnerabilities, weak passwords and old software without updates. It is also a well-known fact that many of the WordPress admin are not aware that they are vulnerable. 
iThemes Security provides the desired level of security by fixing common loopholes, strengthening the user credentials.

This plugin will make your WordPress website much more secure preventing hackers from breaking into your account and stealing the critical and confidential information or deleting your website entirely.
This plugin works at multiple layers of security protocols such as blocking the IP addresses and protect from brute force attacks thereby protecting hackers to enter into your admin account.
For instance, If someone tries to login into your account five times without success, iTheme Security plugin blocks that IP address from accessing your website again.
The third plugin in this list is Yoast SEO. The best SEO plugin for WordPress is developed by the company Yoast. The basic concept is that you can rank higher in Google search ranking by focusing on keywords and incorporating them into your pages, title, and content.
If you can rank high enough, You will get a massive amount of organic traffic from people searching for those keywords from every corner. It also allows you to add meta title and description for any page, so you can focus on your keyword of choice.
Yoast also analyzes your entire pages and guide you and provide you with many helpful suggestions to improve SEO readability.
Fouth plugin in this list is Smush.it, At times large images do slow down your website without your knowledge. This plugin is very useful for compressing the big size image files which otherwise takes a lot of time in loading to the website.
It resizes and optimizes all such image files from Megabytes to few Kilobytes without compromising in the quality.
This is one of the best award winning image optimizer out there which has been benchmarked and tested number one image optimizer for speed and quality.

The last plugin in our list is Contact Form 7. This plugin can manage multiple contact forms which can be customized as per your wish. Contact Form 7 is a very popular plugin for creating WordPress contact forms with over 5 million active installations as on date.
Contact Form 7 supports creating contact forms without any HTML coding. Forms can be customized to include File upload, Quiz fields, and CAPTCHA etc. Beautiful Style of Forms and different skins can also be changed with the help of supporting plugins e.g. Contact Form 7 Style and Contact Form 7 Skin. 
To add fields to a form, make tags for them and insert them into the 'Form' field. You'll find unfamiliar codes in the 'Form' field, for example,[text* your-name] These codes are called "tags" in the vocabulary for Contact Form 7. (Courtesy: contactform7.com)
So, This completes the list of 5 must have WordPress plugins. All five plugins have been used personally and It can be concluded that all above plugins are extremely useful to add functionality to the websites.
---
Also Read:
---