Home » Google Certification » Google Digital Unlocked – How I unlocked the 23 Badges to earn Certification – All Question & Answers
---
The Google Digital Marketing course covers everything from Search Engines, Search Marketing, and Paid Advertising to Social Media, and Mobile Marketing etc. It will also help you learn how to start a business, build a website, do SEO, run online ads, and more.
This Course helps in guiding the aspirants covering students and marketing professionals about different digital marketing techniques, various strategies and related practices that can help them in channelizing and optimizing the digital marketing Google campaigns.
This modules in this course are such designed that these offers aspirants in-depth overview of the digital marketing techniques and make them familiar regarding the key concepts and terminology that are incorporated in successive modules.
The Digital Unlocked is Google's resource which is your one-stop shop for a sail through digital marketing skills with a free course on to help you grow your online business or digital marketing career.
Above all, The Digital Unlocked course is free of cost, which requires only signup. You will be required to sign up with your email through the link https://learndigital.withgoogle.com/digitalunlocked. After signing you will get online learning plan of 23 digital marketing topics.
These topics include a variety of subjects such as search, marketing fundamentals, email, social media, video, e-commerce, geo-targeting, and analytics etc.
This is a free online certification course in partnership between Google and the Indian School of Business, Hyderabad & FICCI. The content covers the basics and beyond, to help you build a great foundation of digital skills to grow your business and enhance your knowledge in digital marketing.
After receiving the program, you will have to check out the video tutorials and be prepared to provide answers of assessment questions at the end of each topic. You have to cover 89 lessons to cover up to earn these 23 badges. After completion of the course, you can take the final certification questions,
You can easily complete your Google Digital Marketing course plan by viewing the videos tutorials and text and checking your insight with quick quizzes after each topic.
There are 23 badges with related videos on the topic. After each video/text you have to answer certain questions to unlock the badges. There is no time limit and you can also review the video/text again and again to until you earn the badge. You have to answer all the question after each badge in order to unlock it. If you fail, it will not allow you to proceed to next badge.
After unlocking all 23 badges, you are eligible to take the final certification exam. There are total 40 questions in the certification exam. The breakup is given below. You have to get minimum 80% marks e.g. 32 questions should be correct out of 40 questions.
Topic Wise Break-up of questions is as follows
Take a Business Online – 5 Questions
Make it easy for people to find a business on the web -9 Questions
Reach more people locally on social media or on mobile – 7 Questions
Reach more customers with advertising – 6 Questions
Track and measure web traffic – 6 Questions
Sell products or services online -4 Questions
Take a business Global-3 Questions
Once you passed, you will have the ability to download your certificate and display this qualification on your CV and LinkedIn profile.
Finally How I have got this certification
Passing this exam is not at all difficult, I have followed the simple trick of watching the videos on each topic, The videos are extremely good to the point. No video is longer than 5-6 minutes. All the questions are asked from the videos/text on a particular topic.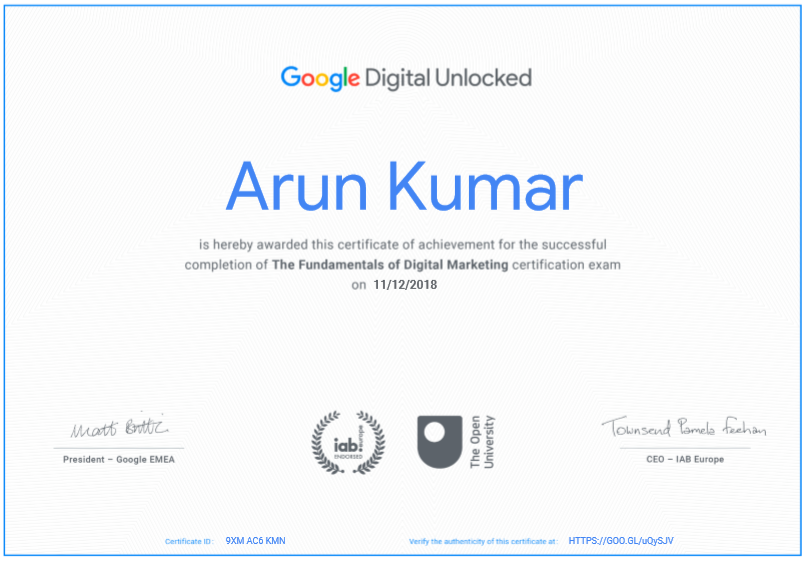 All Questions and Answers are given in the following video.