Home » WordPress » How to Add Meta Description and Keywords to a WordPress Website for better SEO Rankings
---
How to add Meta Description and Keywords to a WordPress Website for better SEO Ranking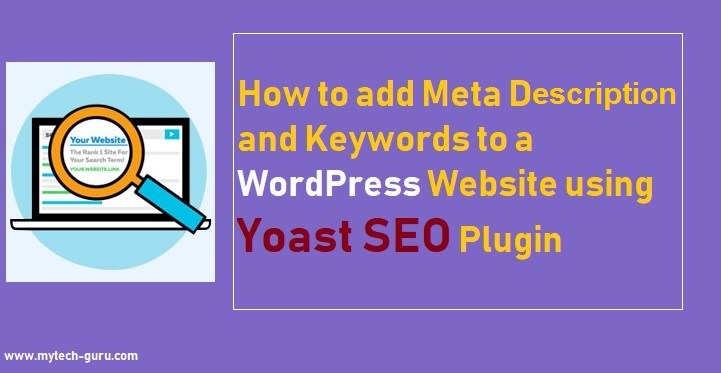 Meta keywords and meta description are very crucial for any website in order to improve its SEO. In the following article, We shall learn in details how to add Meta description and meta keywords to a website post or page.
What is the need to add Keywords and Meta Description for a WordPress Website?
Meta description and keywords pertaining to your website tells the search engines more details regarding the content of your pages and posts. Meta Keywords are important words and phrases which are the most likely words to be searched on the internet by users. The meta description is the short description of your particular post or page. These are HTML Meta tags and these are inserted into your site's header.
WordPress Yoast SEO is the best plugin to add these to your website's content e.g. posts and pages through your WordPress admin account.
Importance of Meta keywords and description for SEO
Although, It can not be quantified in terms of numbers that how much importance search engines give to meta keywords and description. However, the fact is the these are important in order to rank you better in any search engine.
Google also says that it doesn't give importance to keywords and description of your post and pages. However, it is always better to add meta description and keywords to your post and pages. The meta description is also important to grab the attention of users on the internet. 
These keywords and meta descriptions are used in order to rank higher in search engine inquiries to meet more customers and users, fans and followers etc.
Now we will see how to add Meta description and keywords to a website through WordPress admin account.
How to Enable Meta Keyword Support in Yoast SEO
Yoast SEO has provision for entering description and meta keywords for individual page and posts.
For enabling meta description and keywords go to SEO-> Search Appearance ->Content Type
Set Show for Yoast SEO Meta Box for posts, pages, and My Templates.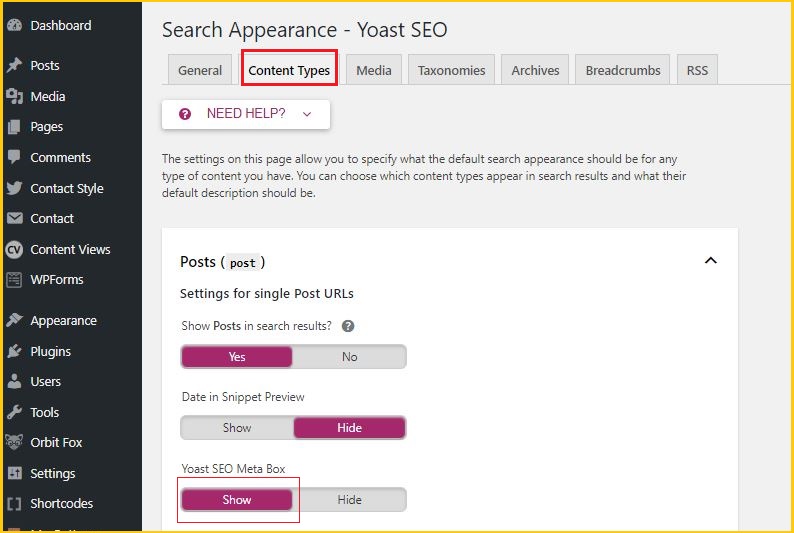 We have successfully enabled meta keywords support in Yoast SEO plugin for WordPress. We can now add meta keywords to our post and pages.
Adding Meta Description and Keywords in post and Pages 
Firstly, open the post or page through edit where you want to add the meta description or keywords.
Now, go to the bottom of the post. Click on Edit Snippet. Here you can add meta description to your post or page.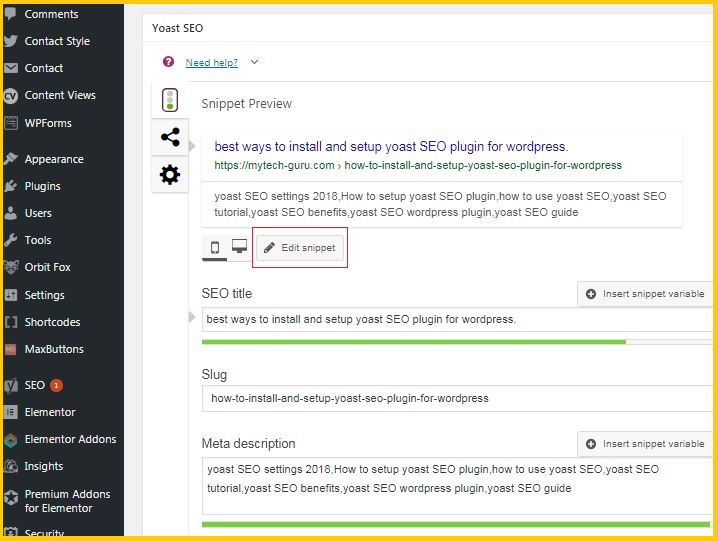 Further, the keyword can be added through Focus keyphrase.
So, it was the whole process for adding meta description and keywords to post and pages.
---
Also Read: